About The Smiths
This intention of this web site is to give some basic information about the greatest band of the 1980's, The Smiths. The Smiths are, or were, Mike Joyce, Johnny Marr, Stehpen Morrissey and Andy Rourke. In an intense 5 years Between 1983 and 1987 The Smiths released almost 20 singles and 7 albums, and are recognised by the critics as one of the most significant bands of the 1980's. It is difficult to believe that Morrissey has been a solo artist longer than 2 lifetimes of The Smiths, but his impact on the music industry declined significantly after 1987.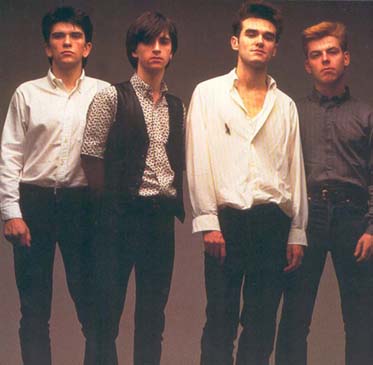 About This Site
As well as 6 main pages, there is a page for each Smiths album in this site. The format for these is changing, so have a look at The Smiths album if you want to check it out. Many great sites helped to create to this one. See Credits for details. I will try to update this site regularly so please see Whats New for details.

Browsers
This site is best viewed with Internet Explorer 5, but has also been tested, and seems to work ok, in Netscape 6. However there is a problem with the pop up lyrics screens in Netscape (CSS), which I am currently trying to fix. The CSS issue is fixed for 7 of the 12 album pages. The rest will be done soon - 16/9/01.